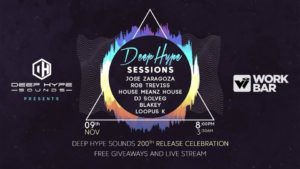 Wow!! It only seems like yesterday that Deep Hype Sounds was compiling its 100th Release and with a lot of hard work and fun along the way we are now on the verge of releasing our 200th . As we love the fun side of life all of us at Deep Hype Sounds thought " what better way to celebrate the occasion than by organising and throwing a party ".
So that's just what we did !!
The 200th release party will take place on Nov. 9, 2018, from 8 p.m.- until close at The Work Bar, London N1, one of London's most popular venues with an excellent reputation of hosting some of the world's best known house DJs.
On the line up for the label will be House Meanz House, DJ Solveg, Blakey and Loopus K. alongside hosts Jose Zaragoza and Rob Treviss
With label freebies and great house music this is one not to be missed .
FREE ENTRY ALL NIGHT
A bit about the label:-
Deep Hype Sounds was launched in 2008 by Chicago Native Jose Zaragoza with a core group of artists and producers. The label quickly gained a reputation for taking the time to encourage new artists to the industry and keeping it all things house. To this day Deep Hype Sounds stands at the forefront of underground music, specialising in genres ranging from classic house to techno. The label is the go to choice for many DJs around the world when searching for quality underground house music.
For more info head to www.deephypesounds.com